Mitt Romney support group buys $3.1m of Iowa ads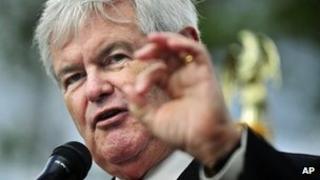 A group supporting Republican presidential hopeful Mitt Romney is beginning a $3.1m (£2m) ad campaign with an Iowa attack on chief rival and new front-runner Newt Gingrich.
The campaign comes after key backers of Mr Romney called Mr Gingrich, a former House speaker, "irrational".
Mr Gingrich, campaigning in South Carolina, said his campaign was "focused on remaining positive".
Iowa voters will choose a Republican presidential nominee on 3 January 2012.
The Gingrich attack video follows another advertisement, funded by the same political action committee, Restore Our Future, that focuses more on President Barack Obama.
Restore Our Future is largely made up of former aides of Mr Romney, the Associated Press reports.
"Newt has a ton of baggage ... And on the issues? Newt's been on all sides," the new ad says, according to AP.
'Irrational behaviour'
Polls in several early voting states show Mr Gingrich significantly ahead, with less than month before the key Iowa vote.
Polls from CNN/Time released on Wednesday indicated Mr Gingrich has a lead of 23 points in both South Carolina and Florida.
Mr Gingrich is significantly ahead in Iowa as well, with less than month before the key caucus vote.
On Thursday, Missouri Senator Jim Talent and former New Hampshire Governor John Sununu told reporters on a conference call that the former House speaker was not a "reliable and trusted" leader.
The senior Republicans said Mr Gingrich had undermined the conservative agenda - citing his description earlier this year of Paul Ryan's plan to reform Medicare as "right-wing social engineering".
They also said his "off-the-cuff" style of decision-making was not best suited to the job of president.
Mr Talent said that Mr Gingrich could say "outrageous things that come from nowhere".
"And he has a tendency to say them at exactly the time when they most undermine the conservative agenda."
Mr Sununu said that as speaker of the House in the 1990s Mr Gingrich had shown a pattern of "anti-principled actions that really irritated his own leadership", adding that his "irrational behaviour" would not be desirable in the White House.
Correspondents say the head-on attack on a fellow candidate marks a shift in Mr Romney's campaign strategy, indicating that he now sees Mr Gingrich as his principal rival.
Mr Talent emphasised that he was reluctant to criticise a fellow Republican but said he had felt compelled to make the comments.
"I just think the stakes are so high, not just for the Republican party but for the country as a whole that we have to do everything that we can" to choose the right candidate.