Iran ex-FBI hostage Robert Levinson appears in video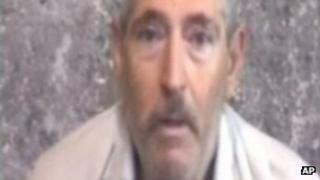 The family of a former FBI agent who disappeared in Iran more than four years ago has released a short video that shows him alive.
In the 54-second clip, Robert Levinson appears unharmed but says his diabetes medicine is running out and pleads: "Help me get home."
The footage did not reveal where or by whom the 63-year-old was being held.
He went missing in March 2007 on the Iranian island of Kish, but Iran has denied knowledge of his whereabouts.
Mr Levinson's family, of Coral Springs, Florida, have had the video since November 2010.
Correspondents say their decision to release it now suggests that as relations are so poor between Washington and Tehran, they have decided to move beyond diplomatic channels and appeal directly to the kidnappers.
'Not in good health'
"I have been treated well, but I need the help of the United States government to answer the requests of the group that has held me for three and a half years," the father of seven says in the video, posted on the family website helpboblevinson.com.
"And please help me get home. Thirty-three years of service to the United States deserves something. Please help me," Mr Levinson adds.
He speaks of "my beautiful, my loving, my loyal wife, Christine", as well as his children.
"I am not in very good health," he adds. "I am running very quickly out of diabetes medicine."
In the video, he appeared to have lost a great deal of weight.
The footage appeared on the family's website along with a message from his wife, Christine, and son, appealing to his captors.
"Please tell us your demands so we can work together to bring my father home safely," says Mr Levinson's son David.
Mrs Levinson has issued several public statements over the years for her husband's release, but they have been mainly addressed to the government of Iran or to Mr Levinson himself.
Orange jumpsuit
He retired from the FBI in 1998, but had been working in Kish as a private investigator, looking at cigarette counterfeiting in the region, his wife says.
US officials have suspected he was kidnapped by Iranian intelligence forces to be used as a bargaining chip in dealings with Washington.
In March this year, Secretary of State Hillary Clinton said she had information Mr Levinson was still alive and being held in south-west Asia.
Soon after, photographs emerged of him bearded and wearing an orange prison jumpsuit, similar to those worn by US detainees in Guantanamo Bay.
Around his neck hung signs, one of which said, "why you cannot help me".
Experts determined the video had been sent through Pakistan, while the photos were sent from an internet address in Afghanistan.
Pashtun wedding music could be heard playing faintly in the background of the video, suggesting Mr Levinson could be held in either of those two countries.
Another theory of US officials was that the Iranian government could have routed the images externally in an effort to blame Mr Levinson's disappearance on someone else.