Alabama immigration law to be 'clarified'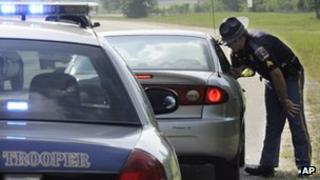 The governor of the southern US state of Alabama says he and legislators are working to clarify the state's tough immigration law.
Governor Robert Bentley's announcement comes after business groups argued that the law was harming Alabama's international image.
The law allows police to demand proof of legal residency from anyone suspected of living illegally.
No possible changes were detailed, but a bill is said to be under preparation.
Mr Bentley says he expects a bill to be ready for the next legislative session.
In one embarrassing incident for the state, two foreign workers from the Honda and Mercedes car assembly plants were investigated under the law.
The cases were later dropped.
More than 30 groups and individuals challenged the law, but some provisions were allowed by a federal court.
As a result, many immigrants have fled the state, and the US Department of Justice has asked an appeal court to block the law.
Other provisions, including requiring schools to check the legal status of new students and making it a crime to transport an illegal immigrant, are on hold because of legal challenges.
'Devastating consequences'
"We recognise that changes are needed to ensure that Alabama has not only the nation's most effective law, but one that is fair and just, promotes economic growth, preserves jobs for those in Alabama legally, and can be enforced effectively and without prejudice," Mr Bentley said on Friday.
One of the legal challengers welcomed the statement and said it represented a significant change in thinking for the state.
"We are delighted legislators are recognising the devastating consequences of the law," Mary Bauer, legal director of the Southern Poverty Law Center, told the Associated Press.
However, Ms Bauer added that the Center was concerned no examples of possible changes to the law were given.