Home invasion killer Komisarjevsky sentenced to death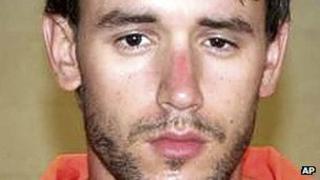 A Connecticut jury has condemned a second man to death for the murder of a woman and her two daughters in a grisly home invasion.
The jury deliberated over for five days before delivering the verdict against Joshua Komisarjevsky.
Steven Hayes, Komisarjevsky's accomplice, received the same sentence in 2010.
The 2007 crime led to the defeat of a bill to abolish the death penalty in Connecticut.
The prosecution told jurors that the two men created "the ultimate house of horrors" by inflicting both physical and psychological pain on Jennifer Hawke-Petit, 17-year-old Hayley and 11-year-old Michaela before killing them.
"It was shockingly brutal. It was evil. It was vicious," prosecutor Gary Nicholson said.
Defence lawyers argued that Komisarjevsky, convicted of sexual assault and murder in October, should be spared execution in light of the abuse he suffered as a boy.
In an attempt to secure a life sentence, Komisarjevsky's lawyers said his ultra-religious family did not bring seek psychological help after he was repeatedly sexually abused as a child by his foster brother.
"The only option he ever had was to go through life damaged," defence lawyer Walter Bansley said in his closing argument.
'The only thing you can do'
The only survivor of the attack, William Petit, appeared calm as the verdict was announced, the Associated Press reported, later bowing his head and closing his eyes.
On the night of 23 July 2007, Komisarjevsky and Hayes broke into the Cheshire, Connecticut house and beat a sleeping William Petit with a baseball bat.
While Mr Petit was tied up, his wife Jennifer, was forced to withdraw money from her bank.
She was then raped by Hayes and strangled to death.
Her 11-year-old daughter, Michaela, was sexually assaulted by Komisarjevsky. Both girls were tied to their beds and left to die as the house was doused in gasoline and set on fire.
Mr Petit managed to escape and alert the neighbours. He has sat through every day of both trials.
"If your family was destroyed by evil, you would be there for your family," Mr Petit told reporters during Hayes' trial. "It's the only thing you can do for your family."
Komisarjevsky and Hayes blamed each other for escalating the crime.
Connecticut has only had one execution since 1960, and both Hayes and Komisarjevsky are likely to spend many years on death row.