Fatal helicopter crash at US Joint Base Lewis-McChord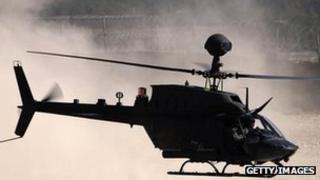 Four Army aviators were killed when two helicopters crashed on a training exercise, a military spokesman said.
The OH-58 Kiowa helicopters crashed after 20:00 local time in the south-west training area of Joint Base Lewis-McChord.
The circumstances of the crash remained unclear, including whether the helicopters crashed into each other.
Joint Base Lewis-McChord is a sprawling US Army and Air Force facility, near Tacoma, Washington.
The victims will not be identified until families are notified.
"Our thoughts and prayers go out to the family, friends and loved ones of the soldiers involved in this tragic accident," said Maj Gen Lloyd Miles, acting senior Army commander at the base.
"We will conduct a thorough investigation into this incident, and we will do everything in our power to support the families of the brave soldiers who died this evening."
Base officials secured the crash site late Monday and immediately began an investigation.
According to a base spokesman, the Kiowa is a single-engine, four-bladed aircraft used for armed reconnaissance.
A Black Hawk helicopter from the Army portion of the same base crashed during a training mission in December 2006, killing all three aboard.