Medal of Honor winner Dakota Meyer drops BAE lawsuit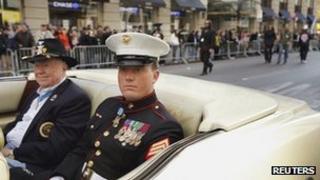 Highly-decorated US Marine Dakota Meyer has settled a lawsuit with BAE Systems over allegations that a manager called him "mentally unstable".
Sgt Meyer said in a statement that he dropped the suit after he and BAE resolved the dispute "amicably".
He was awarded the Medal of Honor, the miltary's highest honour, earlier this year for his actions in Afghanistan.
On Thursday, the official account of Sgt Meyer's citation for the medal was called into question.
A report in McClatchy newspapers said a review of documents, including his medal citation, showed several "untrue, unsubstantiated or exaggerated" assertions about the 8 September 2009 battle near the Afghanistan village of Ganjgal.
The report, by a McClatchy correspondent embedded with Sgt Meyer during the battle, said that the veteran still displayed heroism that day and deserved the award.
White House spokesman Jay Carney told reporters that President Barack Obama "remains very proud" of Dakota Meyer and his "remarkable acts of bravery".
"I can't thank everyone enough for the support people on Twitter and other Americans are showing me. So Thank You all," Sgt Meyer wrote on Twitter, in response to the McClatchy report.
'Generosity' for Marines
Sgt Meyer filed the lawsuit claiming unfair treatment by Bobby McCreight, a supervisor at BAE.
While working at BAE, Sgt Meyer had expressed disapproval of the defence contractor's alleged attempt to sell advanced rifle scopes to Pakistan.
The lawsuit alleged that after Sgt Meyer resigned from BAE, Mr McCreight told a hiring manager at another company that the Marine was "mentally unstable" and had a drinking problem.
That conversation cost Sgt Meyer the opportunity to return to his old job, according to court documents.
There was no mention of a monetary settlement in the joint statement from Dakota Meyer and BAE, but Sgt Meyer praised the firm's generosity to the Marine Corps Scholarship Foundation.
"I am gratified to learn that BAE Systems OASYS did not ultimately sell and does not intend to sell advanced thermal scopes to Pakistan," he said in the statement.
BAE said it was "pleased that we reached closure" and that Sgt Meyer "exemplifies the qualities that make the men and women of our armed services the best in the world".