Obama signs key bill to fund federal government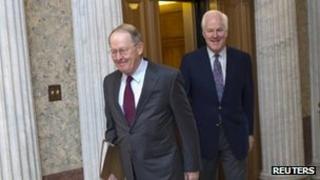 US President Barack Obama has signed into law a spending bill, averting an impending shutdown of federal government services.
The bill, worth nearly $1tn (£645bn), was earlier passed by the Senate and had already been backed by the House of Representatives.
Government agencies including those for defence and labour faced shutdown this weekend without the legislation.
It follows Senate approval of a two-month extension to a payroll tax break.
That bill also forces President Obama to make a decision on a controversial oil pipeline early next year.
It is expected to go before the Republican-dominated House for a vote on Monday.
Passage of these two pieces of legislation would end a year of bitter partisan budget battles on Capitol Hill.
The spending bill funds a wide range of government agencies for the rest of the fiscal year - until September 2012.
The vote to continue the payroll tax break for about 160 million American workers also means millions of unemployed Americans will continue to receive emergency welfare benefits.
The bill stops the 4.2% tax rate from jumping to 6.2% for those workers on 1 January.
Economists have warned that a failure to keep the tax cut would hurt a fragile US economic recovery.
But in exchange, President Obama must make a decision in February on the proposed Keystone XL pipeline from Canada's oil sands to refineries in Texas.
Mr Obama had threatened to veto the project and wanted to delay a decision on it past the 2012 election.
In remarks after the Senate vote, Mr Obama said he expected Congress to extend the payroll tax break for the rest of 2012 when it reconvened in January.
Allowing it to lapse would be "inexcusable", he said.