Philadelphia basement 'smelled of death'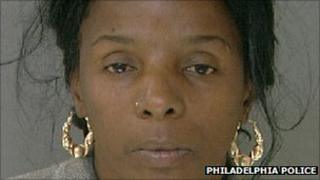 A stench of death filled a basement in the city of Philadelphia, where four adults were held captive in a benefits scam, a policeman tells a court.
There were gasps in court as photos were shown of the victims covered in open wounds and deep gashes.
One of the victims told the pretrial hearing he was once kept in a closet that was nailed shut.
Linda Ann Weston and three others are accused of locking up mentally disabled adults to collect their benefits.
Police were called after a landlord found the adults locked in the basement in October this year.
Chained to boiler
The hearing will determine if there is enough evidence to bring the case to trial.
Weston, 51, had more than 50 identification documents at the time of her arrest, and officials believe the alleged abuse had occurred in several states since 2002.
She previously served prison time for starving a man to death.
The photos showed one victim, Tamara Breeden, with welts, bruises and lacerations on her scalp. She was so thin her hip bone protruded.
Another victim, Derwin McLemire, had several open and infected wounds on his legs, while Edwin Sanabria had scars on his back and chest.
Herbert Knowles was found chained to a boiler.
Mr Sanabria told a judge that he went with Ms Weston to a government office in 2001 to sign paperwork, and never saw his monthly disability checks again.
Police officer John Murphy told Monday's hearing in a Philadelphia court about the victims' conditions when they were first found.
"The stench in the room and on their person was unbearable," Mr Murphy said. Asked to describe it, he said: "Basically, death."
Prosecutors added new charges for Weston on Monday, including promoting prostitution and custody interference.