Eight US troops charged over death of Pte Danny Chen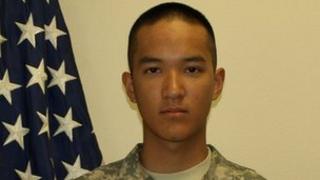 Eight US soldiers have been charged over the death of infantryman Danny Chen in Afghanistan, international security forces have said.
Charges include dereliction of duty, assault and involuntary manslaughter. Five are accused of negligent homicide.
Private Chen, 19, was found in a guard tower in Kandahar after apparently shooting himself in October.
His family told a news conference in New York City they were encouraged by the development in the investigation.
Speaking through an interpreter, Chen's father, Yen Tao Chen, said the news "gives us some hope".
The Chens have alleged that their son was subjected to physical abuse and ethnic slurs from superiors.
The family also told the New York Times not long after their son's death that investigators had informed them they were not certain the shot had been self-inflicted.
New York Congresswoman Nydia Velazquez said it was important to find out what happened to Chen, adding: "Racial discrimination and intolerance have no place in today's military."
A spokeswoman from the Organization of Chinese Americans said details from Chen's Facebook page, emails and a few pages of his journal released by the army suggested he had been bullied.
Other soldiers dragged him across the floor, threw stones at the back of his head, made him keep liquid in his mouth while upside down, and called him names like "Jackie Chen" - a reference to Jackie Chan, the actor - Elizabeth Ou Yang said.
The accused are members of C Company, 3rd Battalion, 21st Infantry Regiment, 1st Stryker Brigade Combat Team, 25th Infantry Division.
The US is drawing down its forces in Afghanistan ahead of a planned 2014 withdrawal of combat troops.