Elder Bush backs Romney, snubs Perry, is no Gingrich fan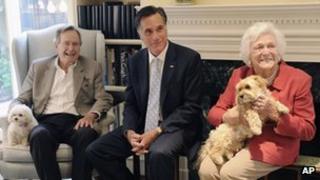 Former US President George H W Bush has called presidential hopeful Mitt Romney "the best choice" for the Republican nomination.
The praise stopped short of a full endorsement, but Mr Bush also told the Houston Chronicle that rival Rick Perry "doesn't seem to be going anywhere".
Mr Perry is the governor of Mr Bush's home state, Texas.
In expressing his support for Mr Romney, Mr Bush called him "mature and reasonable - not a bomb-thrower".
Whoever the Republican nominee is, Mr Bush said: "I want to see Obama beaten."
Mr Bush lost his own re-election campaign in 1992 to Democratic challenger Bill Clinton.
The Bush family are not thought to be fellow Texan Mr Perry's biggest fans.
In the 2010 Republican gubernatorial primary, the Bushes endorsed a Perry rival.
Nor did Mr Bush sound impressed when discussing another candidate, former House Speaker Newt Gingrich, who has surged in opinion polls in recent weeks.
"I'm not his biggest advocate," he said, describing how Mr Gingrich withdrew his support after Mr Bush reneged on a campaign pledge of no new taxes, during a recession.
"He was there, right outside the Oval Office," Mr Bush told the Houston Chronicle. "I met with all the Republican leaders, all the Democratic leaders."
"The plan was, we were all going to walk out into the Rose Garden and announce this deal. Newt was right there.
"Got ready to go out in the Rose Garden, and I said, 'Where's Gingrich?' Went up to Capitol Hill.
"He was here a minute ago. Went up there and started lobbying against the thing."
The Republican candidates face a crucial test in the Iowa caucus on 3 January.
Recent polls show Mr Romney, Mr Gingrich and Texas congressman Ron Paul leading the race in that state.
It will be the first in a series of votes across the US that will help pick the Republican nominee to challenge Barack Obama for the White House in November 2012.