Walmart Moms: America's next big voting bloc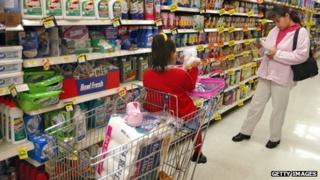 Cheryl Abbarno has an Obama t-shirt buried in a drawer somewhere, but it takes a while to find it.
The t-shirt, with its slogan Yes We Did, hasn't been out in a while.
"I probably wore it for about a month because I was really happy," says Mrs Abbarno, recalling the days after Barack Obama's 2008 election victory. "But not so much lately."
In recent weeks this mother of two from Clermont, west of Orlando in the US state of Florida, has been paying increasing attention to the candidates vying for the Republican presidential nomination.
But she's filled with trepidation.
Signs of distress
"It makes me nervous to think that I might be voting for a Republican president," she says, "because I don't know that they really have any idea what it's like to be in the middle class and not have a lot of money and be struggling to try to make it."
But Mrs Abbarno is disappointed with what she sees as a lack of leadership from the president. She's looking for alternatives.
"You never know, someone could come out of the woodwork and be the real true person that is gonna come in and help us," she says.
Looking around Mrs Abbarno's spacious home, with its pool and deck, the signs of distress are not immediately obvious.
But she and her husband, Dan, bought it for $220,000 (£140,000) in 2004.
Two years later, when they refinanced to build a new kitchen, it was valued at $400,000.
Now it's worth $153,000 and the couple owes $318,000.
"We're in way over our heads," Mrs Abbarno says. "It's very hard to make the payments every month."
With her financial woes, her children at home and her faith dented in the president, Mrs Abbarno is an almost archetypal "Walmart mom".
And she's hardly alone.
"They really look like America," says Democratic pollster Margie Omero, who conducted a survey of Walmart moms in October, along with Neil Newhouse, who conducts polling for Republican presidential candidate Mitt Romney.
"This can really capture moms who live just about anywhere," Ms Omero says of her survey.
A Walmart mom, for the purposes of the research, is defined as a female voter who shops at Walmart at least once a month, and has children 18 years old or younger living at home.
Representing about 14% of the electorate, they were key swing voters in 2008, when they supported President Obama, and in 2010, when they helped tip the balance of power back towards the Republicans.
Let down
They're economically squeezed, politically undecided and generally too preoccupied with their daily lives to be paying much attention to national politics.
"Their concerns are still more about their household economic finances than what's going on with the nation's economy," says Ms Omero.
A visit to the local Walmart with her daughters, Alex and Molly, reveals the strategies Mrs Abbarno employs to get by.
She carries a wallet-sized organiser full of categorised coupons and knows when to shop elsewhere for cheaper essentials.
"I plan according to where the sales are and where I have a coupon," she says, as the girls start agitating for a new flavour of waffles.
The large weekly shop has been replaced by more frequent, more frugal expeditions.
"It's hard to come and take $250 out of his paycheck," Mrs Abbarno says, "so we just don't do that any more."
Dan Abbarno, meanwhile, is pursuing a punishing work schedule: attempting to get a small removals company off the ground by day and delivering newspapers for the Orlando Sentinel by night.
It doesn't leave a lot of time for sleep or family.
"You really don't have any other choice," he says. "Hopefully one day I won't have to do this."
Mr Abbarno used to share his wife's optimism about Mr Obama, but now feels let down by all politicians.
Florida Democratic strategist Steve Schale says voters like the Abbarnos embody what he calls an era of "combustion" in the way politics is viewed.
"Voters are frustrated, for good reason," says Mr Schale, who orchestrated Barack Obama's successful 2008 Florida campaign.
Security about jobs, education and family is gone, creating an electorate that's confused and volatile.
Still hoping
And while the term "Walmart mom" has no particular value for campaign strategists (there are no computerised databases for robo-calls), they nevertheless represent the sort of middle-class families who decide elections.
"If you win in those communities, you'll win Florida," Mr Schale says.
"And if you win Florida, you're going to win the White House."
The Walmart moms polled by Ms Omero and Mr Newhouse might have put away their Obama t-shirts, but they remain more hopeful about the president than do the electorate as a whole.
Intriguingly, they're also more inclined than the average voter to want the government to do more, not less, to tackle the nation's economic woes.
With the 2012 Iowa caucus looming, Cheryl Abbarno says none of the Republican hopefuls thrill her the way Mr Obama did in 2008.
"I don't think any of them can say anything right now that is going to speak to me the way Barack Obama did when he was campaigning," she says.
"I felt that he was talking to me."
But that was all a long time ago. The Democratic Party would be wise not to take Walmart moms for granted in 2012.
"I hate to say that he was faking it," Mrs Abbarno says of the old Obama.
"But he's not like us and he made me think he was."