New York firebomb attacks: Man confesses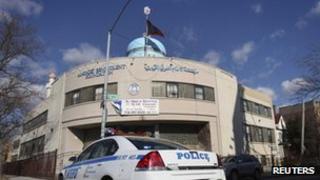 New York City police say a man has confessed to a string of arson attacks at an Islamic cultural centre and four other sites on New Year's Day.
He has been taken into custody. His name was not immediately released.
Police spokesman Paul Browne says he made statements implicating himself in the attacks and had personal grievances with each targeted location, AP says.
Crude Molotov cocktails were also hurled into a convenience store, two homes in Queens, one in Nassau County.
The man is facing arson-related charges.
The Imam Al-Khoei Foundation in the borough of Queens suffered damage to its front door, but no-one was hurt.