Fourth-generation Kennedy considers political life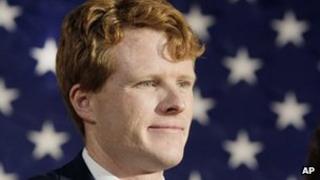 Another Kennedy may be entering US national politics, following the retirement of long-serving Representative Barney Frank.
Joseph P Kennedy III, the grandson of Robert F Kennedy, is considering a run for Mr Frank's Massachusetts seat.
Mr Kennedy, 31, has resigned from his position as a prosecutor to mull a bid.
The last member of the Kennedy dynasty to hold office was Representative Patrick Kennedy, who resigned and finished his term in 2011.
That heralded the first period in 64 years without a Kennedy serving in elected office in Washington DC.
The young Kennedy's own father, Joseph P Kennedy II, served in Congress for 12 years.
The potential candidate would be vying for a seat in Congress representing the fourth district of Massachusetts, held by Democrat Barney Frank since 1980.
Mr Kennedy is a former Peace Corps volunteer and has been a prosecutor since he graduated from Harvard Law School.
In a statement, he said his decision to "look seriously" at elected office was "grounded in a deep commitment to public service". He said he would make a final decision after talking with constituents.
He has formed an exploratory committee that allows him to fundraise.
His grandfather, New York Senator Robert Kennedy, the brother of President John F Kennedy, was shot and fatally wounded while campaigning for the Democratic presidential nomination in 1968.