Iowa voter claims caucus miscount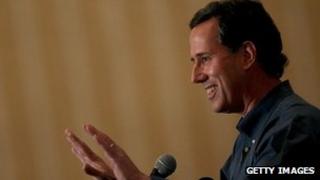 A voter in Iowa says the state's caucus vote count may be incorrect, putting Rick Santorum marginally in the lead.
Edward True of Moulton, Iowa, who helped count votes in one precinct, says the published figures differed the count he observed.
Mr Santorum said the possible error "doesn't really matter", saying the vote would still effectively be a tie.
On Tuesday, Iowa held its first-in-the-nation nominating contest, won by Mitt Romney by just eight votes.
According to an affidavit signed by Mr True, only two votes were cast in favour of Mr Romney in the caucus at Washington Wells, Moulton. The official result as declared by the state gave him 22 votes.
"I assume somebody made a typographical error," Mr True said in a telephone interview with the Associated Press news agency.
Iowa's caucuses certify their results over a two-week period.
State Republican Party chairman Matt Strawn said in a statement that officials would not respond to "every rumour, innuendo or allegation" during that time.
Republican Party officials "do not have any reason to believe the final, certified results of Appanoose County will change the outcome of Tuesday's vote," Mr Strawn added.
Mr Romney and Mr Santorum each received about 30,000 votes out of a total of more than 122,000 votes cast.
The state caucuses do not have a provision for recounting the vote.