Colombia deportee Jakadien Turner returns to the US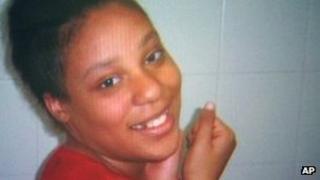 A 15-year-old runaway who was mistakenly deported to Colombia has finally returned to the US.
Jakadrien Turner was handed over to US embassy officials after they established she was an American.
There is still no explanation as to how US immigration authorities deported her to Colombia despite her having no Colombian ID and speaking no Spanish.
She apparently lived and worked in Bogota for several months before a relative found her via the internet.
Ms Turner's grandmother, Lorene Turner, had contacted Dallas police when she found Jakadrien's Facebook page - which she was operating under an assumed name.
'Gazillion questions'
The teenager had run away from home in 2010 and was reported missing on 19 November that year. Her information was on record with the National Center for Missing and Exploited Children.
She was arrested by Houston police in April 2011 on the charge that eventually led to her deportation after she claimed she was called Tika Lanay Cortez, the name of a Colombian woman born in 1990.
"They didn't do their work," Lorene Turner told a local TV station. "How do you deport a teenager and send her to Colombia without a passport, without anything?"
Johnisa Turner, Jakadrien's mother, told the Associated Press news agency earlier on Friday that she has "a gazillion questions" for her daughter when she arrives in Dallas.
"I am very excited," Ms Turner said. "I feel like a weight has been lifted. But at the same time, I won't just feel really, really good until I'm able to touch her. Until I'm able to put her in my arms."
US immigration officials said they found nothing after her arrest that contradicted her story or assumed name, but were investigating the circumstances which led to the accidental deportation.
A spokesman for the the Immigration and Customs Enforcement said the agency "takes these allegations very seriously".
During the deportation process a representative from a Colombian consulate reportedly interviewed her and issued a travel document, the Associated Press reports.
The Colombian Ministry of Foreign Affairs said Jakadrien was issued travel documents at the request of the US National Security Agency.
The ministry said it was investigating what kind of verification was conducted by its Houston consulate to issue the temporary passport.
According to a statement from Colombian officials, when Jakadrien arrived in the country she was enrolled in the country's "Welcome Home" programme, where she was given shelter, psychological assistance and a job at a call centre.
When the government was alerted to her status as an US citizen and a minor, they placed her in protective custody.