Cultural warrior Rick Santorum takes on New Hampshire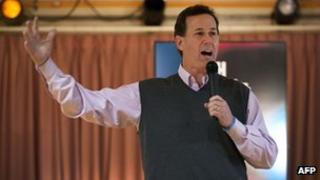 Former Pennsylvania Senator Rick Santorum has earned a divisive reputation as culture warrior. Will his effort to shift emphasis to populist economic issues succeed in New Hampshire and beyond?
Kay and Alan Dopfel sat in the second row of a rented meeting hall in Salem, New Hampshire, and they knew what they wanted to hear from Republican presidential hopeful Rick Santorum: his plan for jobs.
"He hasn't said enough about it," Mr Dopfel said about the former Pennsylvania senator.
They had heard plenty about his thoughts on same-sex marriage, abortion and other social issues.
"This is the time to get the economy back under control," Mrs Dopfel said.
On Monday, the last full day of campaigning before the critical New Hampshire primary election, Mr Santorum talked at length about his plan to revive America's moribund manufacturing sector.
He described himself as best able to win blue-collar voters from Barack Obama in the November general election. And he sold himself as the conservative alternative to Mitt Romney, the front-runner in the race who is distrusted by many on the right.
"We're going to give small-town America a chance to come back," he said.
Taking the bait
With a populist economic tone, Mr Santorum also sought to draw contrast between himself and Mr Romney, who he repeatedly derided as the "establishment" candidate.
"I've run five times and won four, and everytime in a heavily Democratic [state] with overwhelming odds against me. We're the candidate that has the best ability to go toe to toe with Governor Romney and defeat the establishment, and be a strong conservative and a principled conservative."
Mr Santorum's populist tone and emphasis on fiscal issues, small businesses, and Americans left behind in the "knowledge economy" suggests he is seeking to downplay his reputation as a social conservative focused on potentially divisive social issues, analysts say.
"Social issues don't resonate with New Hampshire Republicans," said Andy Smith, a political scientist at the University of New Hampshire and director of the university's survey centre.
"This is a moderate Republican electorate, and the more you talk about those sorts of things, the more you risk alienating voters."
Should he do well in New Hampshire, Mr Smith said, he may then have to pivot back toward social issues to compete well in South Carolina, where those are "red meat" to voters.
That could create a troubling reputation for inconsistency, Mr Smith said.
"You have to stay focused," Mr Smith said. "You have got to pick what your reason is for running for president and stick to it."
Mr Santorum appeared to have learned a lesson since last week, said Mr Smith. On Thursday, he engaged in a testy exchange with a college student who challenged him on his staunch opposition to same-sex marriage, which Mr Santorum appeared to compare to polygamy.
"He took the bait on social issues," Mr Smith said, "and he really shouldn't have."
By contrast, on Monday Mr Santorum parried a questioner's attempt to engage him on whether states could ban contraceptives.
"I don't know whether it's the cold weather up here, why you folks are so focused on contraceptives," Mr Santorum said, drawing laughs from the crowd.
Broader issues
Mr Santorum represented Pennsylvania in the US Senate for two terms before his defeat in 2006 by a centrist Democrat.
In Congress he was known for his staunch opposition to same-sex marriage and legal abortion.
In the 2012 race for the Republican nomination to run against President Obama, social conservatives who distrust front-runner Mitt Romney have spent much of the past few months casting around for an alternative.
With their support Mr Santorum vaulted into the top tier of candidates last week with a close second-place finish in the Iowa caucuses.
His showing there was in large part due to support from self-described evangelical Christians, and he dominated among voters who described themselves as "very conservative" and who said abortion was the most important issue to them.
It is unclear whether Mr Santorum's effort to rebrand himself for more moderate New Hampshire Republicans can succeed - or whether his candidacy can endure in other relatively moderate states.
In last-minute polling, Mr Santorum was tied for third place with late-surging Jon Huntsman, the former Utah governor.
At Mr Santorum's events in New Hampshire, no prospective voters said they were attracted to him because of his socially conservative views, suggesting he had succeeded in attracting a broader base of support in the Granite State.
"I like that he talked about foreign policy as well as domestic," said Elena Sachs, a nurse who said she liked Mr Santorum's pledge to defend Israel against Iranian aggression.
Paul St Onge, a 60-year-old financial adviser, said the senator's talk on manufacturing appealed to him.
"That's where we've been hurt," he said. "He plans to bring those jobs back."
Meanwhile, some of Mr Santorum's supporters denied a shift was underway at all.
"I don't think he intends to shed the reputation of being a cultural warrior," New Hampshire State Senator Fenton Groen said as he waited to the candidate to take the stage at a veterans' club in Somersworth on Monday afternoon.
"He has shown himself to be broad in the issues."