Media digest New Hampshire result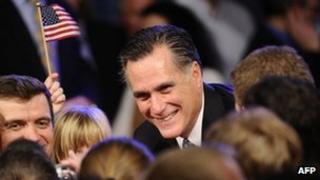 Mitt Romney has become the first non-incumbent Republican since 1976 to win the party's presidential nomination in both Iowa and New Hampshire.
His latest victory has given him strong momentum moving forward to the next contest in South Carolina on 21 January.
However, being the front-runner brings its own problems, and Mr Romney's rivals have been intensifying their criticism of him.
Here is a round-up of what some of the US and international media have to say about the results.
US media
The New York Times says despite his victories in Iowa and New Hampshire, Mitt Romney has been "stung by unexpectedly fierce attacks from Republican rivals on his career as a corporate buyout specialist".
Campaign advisers "are scrambling to avoid a prolonged and nasty battle over his business record before it does lasting damage to the front-runner," the paper says.
"Although the advisers had always expected that Democrats would malign Mr Romney's work of buying and selling companies, they were largely unprepared for an assault that came so early in the campaign and from within the ranks of their own party."
Some analysts have suggested that targeting Mr Romney's business credentials may have backfired for other candidates.
Jennifer Rubin, writing in the Washington Post asks: "Why would Gingrich attack Mitt Romney on free-market capitalism, which is at the centre of the modern Republican Party?"
"Thanks in part to Gingrich's, Rick Perry's and Jon Huntsman's foolish attacks, Romney managed to lay claim to be the standard-bearer of not just his party but of the conservative movement. He's with the Republicans who don't want to apologize for their faith in the free market. That's the right place to be," she says.
The Christian Science Monitor echoes that view, arguing that Mr Romney's Republican rivals are doing President Obama's work for him, but that this may not in the end be to the advantage of the Democrats.
"Team Obama had hoped to drop the Bain [Mr Romney's venture capitalist firm] bomb on Romney after he had secured the nomination. But that may have been too much to hope for, given Bain is such a juicy target," the paper says.
"Romney's business experience, after all, is central to his pitch for the presidency. And with Romney's primary opponents anxious to salvage their candidacies, attacking the front-runner is only natural."
The Wall Street Journal says conservative candidates in the race are now descending on South Carolina, seeing it as their best chance to stop the front-runner's momentum.
"Mr Romney holds the lead in polls here, but he faces a much tougher race than he did in New Hampshire. He will have to win over a majority of GOP [Republican] voters who are sympathetic to the tea-party cause."
"He also will have to overcome mistrust among evangelicals who are sceptical of his positions on abortion and gay marriage, and view his Mormon faith with suspicion," the paper adds.
John Cassidy, writing in the New Yorker, says improved US jobs figures released last week may damage Mitt Romney's claim that he is the man to create jobs and get the economy moving.
"As long as the economy was in a recession, or a near-recession, Romney's candidacy had an obvious plausibility to it. Now, that things are improving and the jobless rate has fallen.... the case for Mitt isn't nearly so obvious."
"He has already been forced to pivot away from the argument that there won't be any real recovery until there is a change at the White House," Mr Cassidy says.
International media
The Financial Times in the UK says other candidates still have the opportunity to check Mr Romney's march towards the Republican coronation.
"In spite of his poor showing in the first two contests, [Newt] Gingrich remains his most potent challenger."
The coming primary in South Carolina will be crucial the paper says, adding: "Expect the campaign to take an even nastier turn in the next few days".
In an article with the heading "Newt's last stand", the Economist argues that the attacks by Mr Gingrich on Mitt Romney's venture capital activities suggest desperation.
"It's not surprising that an unpredictable and famously prickly candidate should have turned bitterly against a rival who is soundly beating him."
The Guardian predicts a "bare-knuckle fight" in South Carolina, although columnist Gary Younge says Mitt Romney's nomination is now almost beyond doubt.
"The Republican hierarchy has already written the check for Romney, but already, you get a sense of buyer's remorse," he writes.