Severed head found below Hollywood sign in Los Angeles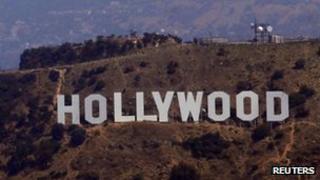 A severed human head has been found near a hiking trail beneath the iconic Hollywood sign in California.
Two women saw their dogs playing with an object in a plastic bag, which turned out to be a man's head, on Tuesday afternoon.
Police plan to resume searching the area for clues or any more remains after sunrise on Wednesday.
The Los Angeles Times reports that the head belongs to an Armenian in his forties with salt and pepper hair.
The paper says that the head's condition indicated that it had not been in the area for long.
Investigators are hoping to release a sketch of the victim in order to identify him, AP reports.
The 14m (45 feet) high letters in the Hollywood Hills above Los Angeles have been a Californian landmark since 1923 and the parkland beneath them is full of trails for hikers and horse riders.