Seattle escapes brunt as snow blankets Pacific Northwest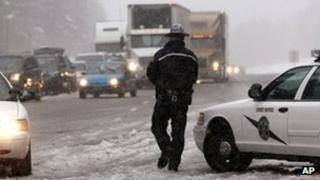 Schools are shut across parts of the US Pacific Northwest, where up to 20in (50cm) of snow has fallen in low-lying parts overnight.
Seattle has escaped the worst of the storm, but half a metre of snow was dumped by Wednesday morning around the Washington state capital Olympia.
Only 4-8in is now predicted in Seattle, much lower than initially forecast.
The National Weather (NWS) Service told the BBC rising temperatures would bring rain in many parts by the weekend.
The worst affected low-lying area has been a 50-mile (80-km) corridor around Interstate 5 from Olympia to Longview.
The Cascade mountain range is set for up to 24in of snow by Thursday, according to meteorologists.
The NWS scaled back its 24in-snow forecast for Seattle, blaming a change in the storm track for western Washington.
But residents had already stocked up on supplies, while many hotels said they were fully booked.
Alaska Airlines cancelled 38 flights late on Tuesday into and out of Seattle and Portland, Oregon.