Newt Gingrich and Mitt Romney take fight to Florida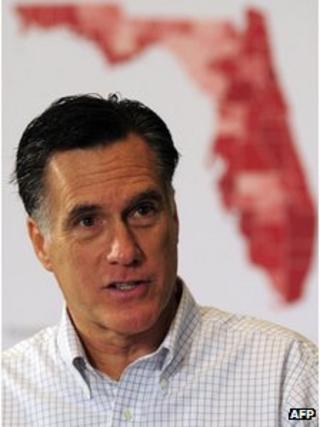 US Republicans Mitt Romney and Newt Gingrich have moved their campaigns - and attacks on each other - to Florida.
Mr Gingrich's campaign said it received $1m (£643,000) in 24 hours following his primary win in South Carolina.
Meanwhile, his rival Mitt Romney said Mr Gingrich engaged in "potentially wrongful activity" on healthcare policy after leaving Congress.
In two polls released on Monday, Mr Gingrich's lead among likely Florida voters grew to as much as 9%.
He won a decisive victory in South Carolina on Saturday, taking 40% of the vote.
The Florida primary will be held on 31 January 2012.
Lobbying without a permit?
After being forced to endure a tough night in South Carolina, Mr Romney went on the attack in Tampa, Florida, ahead of Monday evening's debate between the four remaining Republican candidates
Mr Romney suggested that Mr Gingrich worked for companies that potentially benefited from the passage of a prescription drug benefit in 2003.
At the time, Mr Gingrich was no longer a member of the House of Representatives, and did not register as a federal lobbyist.
However, he continued to advocate on Capitol Hill as he ran a variety of foundations and private groups.
Mr Romney demanded that Mr Gingrich also release consulting contracts he struck with government-backed mortgage giant Freddie Mac.
He released a television advertisement with similar themes in Florida on Friday - his first official attack ad.
Mr Gingrich denied he was lobbying and said he was working to release information about his relationship with Freddie Mac.
"It's not true," Mr Gingrich said of Mr Romney's assertions. "He knows it's not true. He's deliberately saying things he knows are false."
He told reporters the decision to release the documents rests with the Center for Health Transformation, which he founded but no longer owns. Two former Gingrich companies earned $1.6m over eight years from Freddie Mac.
Mr Gingrich himself spent the days before the South Carolina primary calling on the former Massachusetts governor to release his tax returns - something Mr Romney has now said he will do on Tuesday.
The Gingrich campaign's new infusion of cash will help in a state where television ads are crucial, but his campaign is still under-funded compared to Mr Romney.
Texas Congressman Ron Paul will skip the state, focusing on other upcoming primaries.
Mr Santorum, however, will campaign in Florida in an attempt to stay in the race after a third-place finish in South Carolina.
Establishment attacks
Mr Gingrich followed his upset in the Palmetto State by saying he now expects attacks to come from all sides.
"I think you're going to see the establishment go crazy in the next week or two,'' he told ABC News on Monday.
He struck back at Mr Romney's calls by referred to him as "somebody who has released none of his business records, who has decided to make a stand on transparency without being transparent".
After a lacklustre debate performance on Thursday, Mr Romney appears to have called in help. Brett O'Donnell, a debate adviser for President George W Bush and 2008 Republican nominee John McCain, was seen at a Romney campaign stop on Monday.
Mr Romney's supporters continued to characterise Mr Gingrich as highly erratic - focusing on both his ties with Freddie Mac and his time leading the House of Representatives.
Former Minnesota Governor Tim Pawlenty, who dropped out of the Republican race in August and now backs Mr Romney, told reporters in a conference call that he completely rejected Mr Gingrich's claim that he served as a "historian" for the company.
Mr Pawlenty echoed a line from some in the party when he argued that Newt Gingrich was not the best candidate to oppose President Barack Obama in the general election.
"The possibility of Newt Gingrich being our nominee against Barack Obama, I think is essentially handing the election over to Obama, if it got to that point," Mr Pawlenty said.
New Jersey Governor Chris Christie told NBC News on Sunday that Mr Gingrich has embarrassed his party in the past.
"Whether he will do it again in the future, I don't know," Mr Christie said, adding he didn't want "another legislator in the Oval Office who doesn't know how to use executive authority".
Mr Christie is often speculated as a potential running-mate for Mr Romney if he wins the nomination.
With Newt Gingrich's win in South Carolina, the nomination contest is now expected to continue into the spring.
The eventual Republican candidate will face President Barack Obama in the general election in November.