News Corp to launch Spanish-language channel in US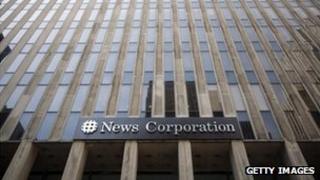 News Corporation has announced it will launch a Spanish-language channel aimed at a growing US Hispanic market.
MundoFox, a joint venture of the media giant and Colombia's RCN Television Group, aims to reach 75% of US households.
It is the company's first move into the free Spanish-language market in the States.
RCN already produces popular US Spanish-language programmes like "Yo soy Betty La Fea".
MundoFox will compete directly with Univision, the market leader, and NBC-owned Telemundo.
Fox International Channels president Hernan Lopez told Variety the corporation saw "similar dynamics" in play when it launched the Fox network 25 years ago, and said it would be "a missed opportunity to not provide an alternative" to Latino viewers.
"There is still room for growth in the US Hispanic advertising market," Mr Lopez said.
The Hispanic population in the US surged 43% between 2000 and 2010, and now makes up 19% of the total population, or about 50 million people.
News Corporation's subsidiaries in the US includes movie studios, broadcast and cable television network and print newspapers, including the Wall Street Journal, a daily national newspaper.