Joe Paterno: Thousands attend Penn State memorial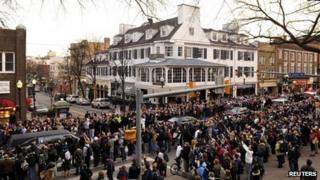 Thousands of mourners have attended a memorial for legendary Penn State University football coach Joe Paterno, one day after his funeral.
Paterno, 85, was buried on Wednesday in a private ceremony.
He died months after being fired by the university for failing to act over allegations an assistant coach molested a 10-year-old boy in a locker room.
Paterno won 409 games over his four-decade career at the school, the most in top-level college football history.
His funeral procession, lined by mourners, drove directly through the university town, popularly known as "Happy Valley".
Nike founder applauded
Paterno died of lung cancer, a diagnosis revealed only after he was fired by Penn State authorities.
Despite the scandal surrounding his final months, Paterno remained a revered figure to many Penn State students and alumni.
At Thursday's memorial service, Nike founder and chairman Phil Knight earned a standing ovation from a crowd of 12,000 as he offered a rousing defence of Paterno's conduct regarding the sexual abuse scandal.
He said Paterno had acted appropriately, reported the information to his superiors and was punished for his honesty.
"Whatever the details of the investigation are, the response is clear to me: if there is a villain in this story, it lies in that investigation, not in Joe Paterno's response," said Mr Knight.
Ben Simasek, who graduated from the school in 2009, told the BBC that the sexual abuse case which ended Paterno's career should not mar the coach's decades of service to the school.
"A lot of people are focusing on negative aspects and talking of a legacy tarnished, but I don't believe that for one minute," he said.
"Joe Paterno will and should be remembered as a great person, a human being, and someone who was able to have an impact on a university on a great scale."
'His legacy is us'
Former NFL and Penn State wide receiver Jimmy Cefalo told the Associated Press news agency before Paterno's funeral: "What's Joe's legacy? The answer is his legacy is us."
Mr Cefalo was one of several invited speakers, one from different decades of Paterno's career, at Thursday's memorial.
In a recent interview discussing the child abuse scandal for the first time, Paterno said he had alerted the university's athletic director about the allegation, but regretted not taking it further.
The athletic director, Tim Curley, and another university official, Gary Schultz, are accused of lying to a grand jury that investigated sexual abuse charges against Jerry Sandusky, formerly an assistant football coach.
Mr Sandusky is accused of molesting 10 young boys over an 11-year period. He met his alleged victims through his charity work.
He has denied the charges, but told NBC News in an interview after he was charged: "I shouldn't have showered with those kids."