Mitt Romney pulls away from Newt Gingrich in Florida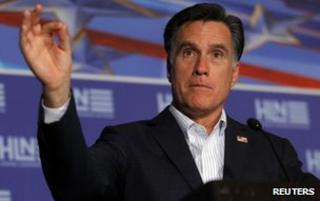 Republican presidential candidate Mitt Romney is pulling away from his nearest rival Newt Gingrich, with a nine-point lead in Florida's opinion polls.
The candidates are campaigning in the key swing state ahead of its crucial primary election next week.
Mr Romney's ratings boost comes a day after he put Mr Gingrich on the defensive in a feisty TV debate.
The eventual Republican nominee will go on to challenge Barack Obama for the White House in November.
A poll from Quinnipiac University released on Friday placed Mr Romney at 38% and Mr Gingrich on 29%.
The survey of likely Republican voters in Florida was taken before the candidates' televised debate on Thursday.
A Sunshine State News/VSS poll also gives Mr Romney a nine-point lead, at 40% to 31% for Mr Gingrich.
However, a national poll by Gallup shows the former Massachusetts governor trailing the former House Speaker by 8%.
Gingrich 'off guard'
Former Pennsylvania Senator Rick Santorum and Texas Congressman Ron Paul were trailing far behind in both surveys.
It suggests Mr Romney is back on track after Mr Gingrich's resounding win in South Carolina's primary last week.
The private equity tycoon suffered a campaign wobble after his refusal to disclose his tax returns became an issue.
In an effort to show he had nothing to hide, Mr Romney released the forms on Tuesday.
They showed he pays nearly 14% - well below the top rate for most Americans, although there was no suggestion he evaded tax.
After being overshadowed in a string of debates by Mr Gingrich, Mr Romney was much more aggressive on Thursday.
The former Massachusetts governor labelled Mr Gingrich's charge that he was the most anti-immigrant candidate "repulsive".
It is a hot-button issue in Florida, where an estimated 11% of registered Republican voters are Hispanic.
Mr Romney also brushed aside his rival's attempts to raise the subject of his fortune, and ridiculed the former House Speaker's plans to set up a colony on the Moon.
Pundits said that an unusually subdued Mr Gingrich seemed caught off guard by the Romney onslaught.
The debate was the last time the candidates appeared together on a national stage ahead of Tuesday's primary.
The stakes are high because a win in Florida - a winner-takes-all state with 50 delegates up for grabs - has the potential to propel one of the contenders to the nomination.
The economy is a particularly big issue in the Sunshine State, which accounts for almost a quarter of US home foreclosures and has an unemployment rate - at 9.9% - above the national average of 8.5%.
Mr Romney is arguing that his business experience makes him the best candidate to turn around America's stubbornly high joblessness levels.
Many conservatives view him as too moderate or have misgivings about his Mormon faith, but a series of polls suggest he stands the best chance of beating Barack Obama.
Primaries and caucuses will be held in every US state to pick a Republican candidate until the eventual winner is crowned at the party's convention in August.