US home prices drop amid weak demand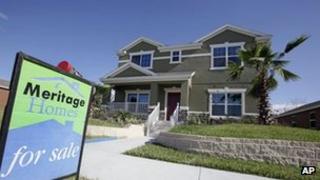 US home prices dropped more than expected in November, continuing the market's slide in an index of 20 metropolitan areas.
Prices for single-family homes declined 0.7%, instead of the 0.5% forecasted by economists.
Home prices are on average at similar levels to 2003, amid a large supply of houses with weak demand.
Consumer confidence also slipped in January, after two straight months of gains in confidence in the US economy.
"Optimism was getting a little bit ahead of itself,'' Mark Vitner, an economist at Wells Fargo told the Associated Press news agency.
"This is really a sober view after folks got a little excited at the turn of the year, thinking that 2012 would be a much better year. But things haven't gotten much better.''
The consumer confidence index surveys consumers about economic issues - from overall business conditions to finding a job.