Canada hanging row over senator comments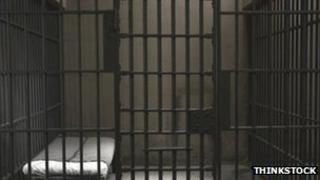 A Canadian senator has said imprisoned murderers should have the "right to a rope in their cell".
Pierre-Hugues Boisvenu, a Conservative senator, later backtracked from the statement, which came a month after two Canadians charged but not convicted of murder were found dead in jail.
Canada abolished the use of capital punishment in 1976.
Mr Boisvenu founded a victims' rights group after his 27-year-old daughter was raped and murdered in 2002.
'Heat of the moment'
Mr Boisvenu made his comments to reporters ahead of a meeting of the Conservative caucus.
"Each assassin should have the right to a rope in his cell to make a decision about his or her life," he said. He serves on the committee currently reviewing Canada's omnibus crime bill.
Mr Boisvenu said he does not expect Canada to reopen the debate on the death penalty, but said "in horrible cases such as [serial killer Clifford] Olson, can we have a reflection on that issue?"
The senator, who was appointed to the chamber in 2010 by Prime Minister Stephen Harper, also argued that the costs of incarcerating murderers could be used elsewhere in the government.
Mr Harper's office confirmed that it will not reopen the death penalty debate, but made no other comment.
According to the Globe and Mail newspaper, Mr Boisvenu later told Canadian French-language broadcaster LCN that he regretted his statement.
His remark came weeks after Paul Laplante, a former Quebec mayor charged in the death of his wife, was found dead in his cell on 9 January.
Kathrine Dufresne, on trial for the death of her adopted daughter, killed herself later in the same week.
'Tragic loss'
Mr Boisvenu's statements were roundly criticised by fellow Canadian politicians.
Bob Rae, an MP for Toronto and interim Liberal Party leader, told CBC the comments "were obviously completely unacceptable".
"He's also suggesting that the prison system break the Criminal Code, which is equally ludicrous," Mr Rae said.
Fellow Conservative Senator Bob Runciman told the National Post said he did not agree with Mr Boisvenu's statement but said his comments were made in the "heat of the moment".
"You have to understand the experiences of Senator Boisvenu and his family," he said. "You have to understand where he's coming from: the loss, the tragic loss of his daughter."