Washington votes for gay marriage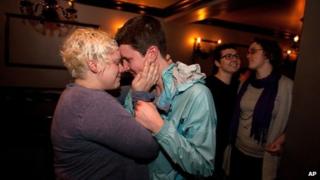 Washington is on track to become the seventh US state to allow same-sex marriage after a vote by lawmakers.
A bill permitting gay and lesbian couples to wed was approved by 28 votes to 21 in the north-western state's Senate on Wednesday night.
The measure is now expected to be passed by the House before Governor Chris Gregoire signs it into law.
Same-sex weddings could be legal by June unless opponents gather 120,000 signatures to trigger a referendum.
Four Republicans voted with majority Democrats to pass the measure. Three Democrats voted against.
Democratic Senator Ed Murray, the bill's sponsor, said it was a contentious issue and lawmakers who voted against gay marriage should not be accused of bigotry.
The gay lawmaker from Seattle added: "Those of us who support this legislation are not, and we should not be accused of, undermining family life or religious freedom."
But Republican Senator Dan Swecker argued that the proposed law would "lead to the silencing of those who believe in traditional marriage".
Same-sex marriage is legal in New York, Massachusetts, Connecticut, New Hampshire, Iowa, Vermont and the District of Columbia.
Moves are also under way to debate legalising it in the states of New Jersey, Maryland and Maine.