Nine-year-old US girl home after multiple organ transplant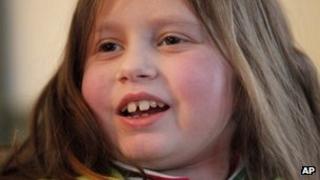 A nine-year-old US girl has returned home after successfully undergoing multiple organ transplants.
Doctors in Boston replaced Alannah Shevenell's stomach, liver, spleen, small intestine, pancreas and a portion of her ooesophagus in October.
She had been suffering from an enormous tumour, growing from organ to organ, since 2008, and doctors had already tried twice to remove it.
Alannah had been on a waiting list for the organs for more than a year.
She told the Associated Press news agency of her joy at being back at the home in Hollis, Maine, where she lives with her grandmother and grandfather. The youngster said she was glad to be well enough to go sledding and work on her scrapbooks.
Grandmother's bedside vigil
Her family had been warned there was a 50% chance she would not survive the huge operation, which was a last resort.
Dr Heung Bae Kim, lead surgeon at the Children's Hospital Boston, said the most difficult part of the surgery was the removal of Alannah's organs and tumour, which had involved significant blood loss.
"It's probably one of the most extensive tumour removals ever done," Dr Kim said.
Alannah recuperated at the hospital for three months, and her grandmother slept in a lounge chair by her bed every night.
She faced infections and other complications in the wake of the transplants, before she was finally discharged on Wednesday.
Alannah still has to take medications every day, and has a feeding tube attached to her as she gets used to eating again.