Oil spurs Canada PM Stephen Harper visit to China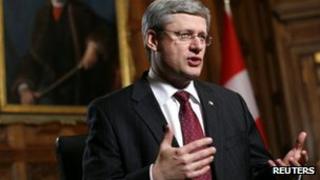 Canadian Prime Minister Stephen Harper will visit China next week to discuss the future of Canada's oil products.
The visit comes after the US rejected a pipeline route from Alberta to Texas.
Five Cabinet ministers, including the ministers of natural resources, trade and foreign affairs will join Mr Harper on his second official visit to China.
A spokesman for the prime minister told the Associated Press it was "absolutely in Canada's interests" to build a new pipeline to deliver oil to China.
Mr Harper will visit Beijing and two other Chinese cities to meet with high-ranking officials, including President Hu Jintao and Premier Wen Jiabao.
Pacific pipeline
Correspondents say the visit is part of a warning to the United States, where the Keystone XL pipeline project has become a controversial political subject.
Republicans in Congress and on the presidential trail have promised to get the pipeline approved. Mr Obama rejected the project when given a 60-day deadline by Congress to make a decision.
Environmentalist critics are opposed to the project because of the method used for extracting petroleum from Alberta's oil sands.
They are also concerned by the risk of pollution on the pipeline route.
Chinese state-owned companies have invested more than $16bn (£10.1bn) in Canadian energy projects in the last two years.
Sinopec, one of those companies, has a stake in a proposed Pacific pipeline that would be alternative route from Alberta.
One pipeline already exists from Canada to the United States, and David Goldwyn, a former energy official in the Obama administration says he sees no threat from Chinese oil business in Canada.