Los Angeles school removes staff amid sex abuse scandal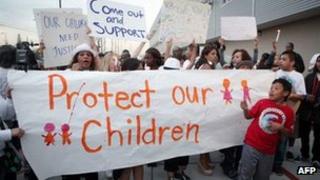 The entire staff of a Los Angeles elementary school will be replaced after two teachers were arrested for sexual abuse, authorities say.
More than 120 staff at Miramonte Elementary School will be removed and interviewed. No other staff are currently under suspicion.
Mark Berndt and Martin Springer were arrested last week on separate allegations of child sexual abuse.
More than one-quarter of the school's students stayed at home on Monday.
Those who did attend walked into the school past TV cameras and a demonstration by angry parents.
The school will remain closed on Tuesday and Wednesday and an entirely new staff will start on Thursday - accompanied by a social worker in each classroom.
Existing staff will continue to be paid and school officials say many will eventually return to work.
Divided parents
Los Angeles Unified School District Superintendent John Deasy announced the move in a meeting with parents at a nearby high school.
Mr Deasy told parents he was not worried about the impact on the school's budget.
"I cannot have another student tell me he is afraid," he said.
Miramonte staff members were also confused and upset by events at the school, he said.
Both the alleged abusers, Mark Berndt and Martin Springer, were long-term employees.
"They taught in this school for years and [staff] assumed everyone else was doing good things," Mr Deasy said.
Teaching union United Teachers Los Angeles said in a statement that they had met with teachers at Miramonte.
"We support a thorough, vigorous and fair investigation of all allegations," the statement said. "It's everyone's responsibility to ensure that any and all allegations are thoughtfully and carefully investigated."
However, some parents at the school told the Los Angeles Times they were alarmed that students had reportedly complained about Mr Berndt over the past two decades.
"My trust level is at zero," said Cassini Quarles, a parent at Miramonte said.
Maria Jimenez told the Associated Press that the school's parents were divided over the decision.
"Some are in favour," she said. "Others are against it because they did this without advising us or consulting us."
Photo suspicion
Mark Berndt, 61, is accused of committing lewd acts with 23 children under the age of 10, between 2005-10.
Police said a photo developer raised the alarm after being handed about 40 pictures of blindfolded children. In some of the photos, the accused had his arm around the children or was covering their mouth with his hand. Some had their mouths taped shut.
Tests on a spoon and container found in the accused's classroom tested positive for semen, the sheriff's department said.
Martin Springer, 49, was arrested on Friday on suspicion of fondling two female students.
Both teachers were long-serving members of staff.
Mr Berndt, a third-grade teacher, had taught for more than 30 years. He is being held on $2.3m (£1.5m) bail.
A teacher at Miramonte since the beginning of his career in 1986, Mr Springer taught second-grade. He is being held on $2m bail.