Komen's Karen Handel quits after Planned Parenthood row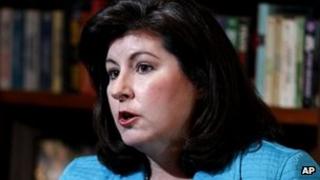 A senior executive has resigned from Susan G Komen for the Cure days after the charity dropped its plans to cut funding of Planned Parenthood.
Karen Handel, vice-president at Komen, had backed the move to stop funding the reproductive health group.
Last week, Komen announced changes to its grant criteria, which would end funding for breast cancer screenings at Planned Parenthood clinics.
But an outcry over the move prompted the charity to backtrack days later.
Critics had accused Komen of succumbing to pressure from groups that oppose abortion - a charge that Ms Handel denied in her letter of resignation.
"I am deeply disappointed by the gross mischaracterisations of the strategy, its rationale and my involvement in it," Ms Handel wrote.
"Neither the decision nor the changes themselves were based on anyone's political beliefs or ideology.
"Rather, both were based on Komen's mission and how to better serve women, as well as a realization of the need to distance Komen from controversy," she added.
Ms Handel unsuccessfully ran for governor of Georgia in 2010, but was hit with accusations that she was soft on abortion because she had previously voted in favour of funding for Planned Parenthood.
Planned Parenthood provides abortion and contraceptive services to women across the US.
In the wake of Komen's announcement to drop its funding of the organisation, New York Mayor Michael Bloomberg said he would donate $250,000 (£157,000) of his personal money to the group.
Last year, Komen had donated $680,000 in grants to Planned Parenthood, and the reproductive health group said that money was mainly used to fund breast cancer screenings.