Congress insider trading ban wins huge House support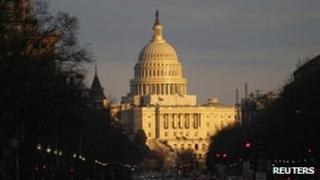 The US House of Representatives has passed legislation barring insider trading by members of Congress by an overwhelming vote of 417-2.
The Senate passed a similar bill last week, but the House law removed a section on firms that sell political information to the financial sector.
Lawmakers proposed the bill after news reports questioned the timing of profitable trades by some lawmakers.
President Barack Obama has promised to immediately sign final legislation.
Before it arrives on Mr Obama's desk, however, the House and Senate must reconcile the differences between the two versions.
Trading based on non-public business information has long been illegal for legislators, but the insider trading rule does not apply to information gained through working in Congress.
The new law would prohibit members of Congress profiting from that information, and would include reporting requirements for trades larger than $1,000 (£600).
Congress is suffering from historically low approval ratings, prompting frank admissions that the bill is aimed at cleaning up its public image.
Weakened bill?
The Senate bill required "political intelligence" firms, companies who sell information to Wall Street and other business interests, to register as lobbyists.
But that provision was replaced by Republican Majority Leader Eric Cantor with a directive to a government research agency to study how political intelligence firms use congressional information.
Several House Democrats said removing the registration requirement weakened the bill.
Republican Senator Chuck Grassley, who introduced the amendment on political intelligence, told the New York Times that congressional staff had no way of knowing who the information would be sold to.
A plan to ban insider trading by members of Congress has only gained momentum in recent months, following a report in November by the CBS programme 60 Minutes.
The report found several representatives and senators, including senior figures on both sides of the political divide, had made trades shortly after receiving information not available to the public.
All of those named in the CBS report strongly denied any wrongdoing.