First nuclear reactors since 1970s approved in US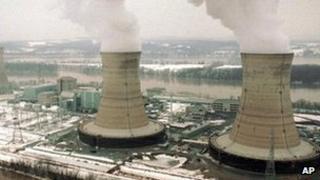 The US Nuclear Regulatory Commission has approved the first nuclear reactors to be built in the country since 1978.
The commission voted 4-1 in favour of Southern Co building two nuclear reactors at an existing Georgia plant.
But Chairman Gregory Jaczko voted against, expressing concern that the licence was being approved "as if Fukushima never happened".
The reactors are expected to cost $14bn (£8.8bn) and could begin operating as early as 2016 or 2017.
No reactors have been approved for construction since a year before the accident at Three Mile Island, a nuclear power plant in Pennsylvania, in 1979.
'Binding commitment'
Safety concerns around nuclear power have risen following a meltdown at Japan's Fukushima power plant in March 2011 after an earthquake and tsunami cut the plant off from the power grid.
In the wake of the Japanese disaster the commission launched a review into whether existing and new US reactors could withstand natural disasters like earthquakes and floods.
Mr Jaczko said he believes approving the reactors "requires some type of binding commitment" that safety enhancements planned from the review would be in place before the reactors opened.
Southern's project is considered a test of whether the industry can avoid costly delays that plagued previous reactors.
The Obama administration has offered Southern and its partners $8.3bn in federal loan guarantees, helping to lower financing costs.
The reactor design, approved separately in December, will also be used by utility companies in Florida and South Carolina currently in the approval process.