Madonna stalker recaptured a week after hospital escape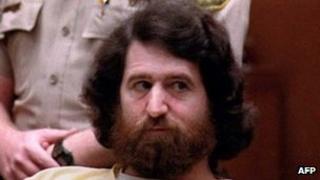 Police say they have recaptured a man who was convicted of stalking and threatening Madonna, a week after he walked out of a psychiatric hospital.
Robert Dewey Hoskins, 54, was found near the Metropolitan State Hospital in Los Angeles and returned to the unit.
Hoskins has been in hospital since July last year, after he was sentenced to jail for 10 years in 1996.
On Thursday, police asked for public help in locating Hoskins, while warning he had "highly psychotic" tendencies.
Records show that Hoskins was also convicted for vandalism in July 2011, the Associated Press news agency reports.
Madonna testified during Hoskins' trial in 1996 that she had nightmares about him after seeing him near her home the previous year.
She said her bodyguard told her Hoskins claimed Madonna was supposed to be his wife, saying that "if he couldn't have me, he was going to slice my throat from ear to ear".
Later that year, while Madonna was in Florida, Hoskins scaled the perimeter wall of her home in the Hollywood Hills area of Los Angeles, jumped into her pool and was eventually shot twice by a security guard.