Ray LaHood: US pressing Egypt on NGO workers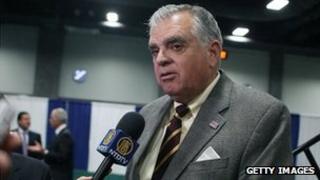 A US cabinet secretary whose son faces charges in Egypt says "top officials" are working "night and day" to ensure he and his colleagues can leave.
Sam LaHood, son of Transport Secretary Ray LaHood, is one of 43 foreign workers facing charges.
Egypt's ruling military council has accused foreign groups of funding street protests against them.
Washington has warned it could review US aid to Egypt unless Cairo respects the rights of non-governmental groups.
Mr LaHood's son runs the Cairo office of the International Republican Institute (IRI) in Egypt, a group that promotes democratic governance.
He was banned from leaving the country in January, along with several other Americans working for non-governmental organisations (NGOs).
Egypt says it is to put on trial 43 people, including the Americans and other foreigners.
'Puzzling'
The elder Mr LaHood told CBS News that he was "grateful" his son and his colleagues were safe, and was assured by the White House that the US was doing everything possible to resolve the situation.
"There are a lot of people in our government, really top officials in our government, working night and day to resolve this issue," Mr LaHood said.
But he added: "Frankly, I don't know how it will be resolved."
The transport secretary said he was puzzled as to why US and foreign NGOs were suddenly in the spotlight.
"These NGOs have been working for years in democracy-building efforts, and they thought they were well within their right to do it," he said. "So it's a little bit puzzling to many people what's happening there."
At least 17 NGO offices in Egypt, including IRI's, were raided in late December 2011.
Aid under threat?
The chairman of the US Joint Chief of Staff, General Martin Dempsey, visited Cairo last week in an unsuccessful attempt to negotiate with Egypt's military rulers.
US Senator John McCain will lead a congressional delegation to the country this weekend.
State department spokesman Victoria Nuland has said that putting the NGO workers on trial "may have an impact on all kinds of other aspects of our relationship with Egypt, including our ability to support them economically".
For military assistance to go through, Secretary of State Hillary Clinton must certify to Congress that Egypt is promoting freedom of speech, religion and the rule of law, Ms Nuland noted.
"She has not made those decisions yet,'' Ms Nuland said.
But in congressional testimony on Thursday, Gen Dempsey said he was "reluctant to come to the stark conclusion about cutting aid".
"Cutting off aid and therefore cutting ourselves off from them means that the next generation won't have that benefit, and I don't know where that takes us, to tell you the truth," he said.