Pro-Mitt Romney super PAC raises more than campaign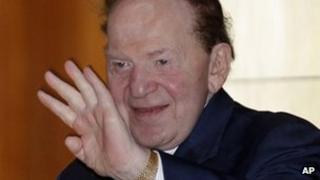 An independent committee supporting Mitt Romney's presidential run raised more money in January than the candidate's official campaign.
Restore Our Future, a so-called "super PAC", raised $6.6m (£4.2m), while Mr Romney's campaign raised $6.5m.
A committee supporting Newt Gingrich raised $11m, almost twice as much as the official campaign.
Republican candidates are increasing their spending in several states ahead of a new set of primaries.
Financial disclosures to the Federal Election Commission showed that Mr Romney's campaign spent almost three times as much as it raised during the month, but ended the month with $7.7m cash in hand.
Mr Romney, a former governor of Massachusetts, has long been considered the front-runner in the Republican race, and has consistently raised more money than his main rivals.
$100 million?
Correspondents say the latest disclosures show an increasing reliance on the independent committees, known as super political action committees (PACs).
Newly central to US political campaigns following a Supreme Court ruling in 2010, super PACs can raise unlimited amounts of money from individual donors.
US politics glossary
Use the dropdown for easy-to-understand explanations of political terms:
Air war
The battle between candidates to get as much advertising on television and radio as possible. In recent years, online adverts, which are cheaper and can be more carefully targeted, have grown increasingly important.
They can then spend that cash on behalf of a particular candidate, but are barred from co-ordinating with the official campaign.
Donations to an official campaign are capped at $2,500 per individual, once for the primary and once for the general election.
Super PACs have been responsible for much of the money spent on negative campaign ads on TV and radio through the primary season.
Sheldon Adelson, a major donor to Winning Our Future, a super PAC supporting Newt Gingrich, recently told Forbes magazine he was willing to give as much as $100m in support of Mr Gingrich or another Republican.
Mr Adelson, a casino tycoon, has already given $5m to Winning Our Future, with an additional $5m donated by his wife, Miriam Adelson.
In January, the committee raised a total of $11m, while Mr Gingrich's own campaign raised $5.5m
Cash-rich Obama
Former Pennsylvania Senator Rick Santorum, currently riding high in the polls, reported a $4.5m fundraising drive in January.
A super PAC supporting him also has two significant backers of its own.: Foster Freiss, a mutual fund manager, and William Dore, president of an energy company, each gave $1m to Red, White and Blue.
Those two donors made up 96% of the committee's fundraising in January, a total of $2.1m.
The Romney-supporting Restore our Future has received 10 donations of $1m or more.
Meanwhile, President Barack Obama's official campaign holds more than $76m cash on hand, more than any other Republican candidate.
His campaign recently gave its blessing to Democratic super PACs, which have raised tiny sums of money so far compared to their Republican rivals.