Affirmative action heads to US Supreme Court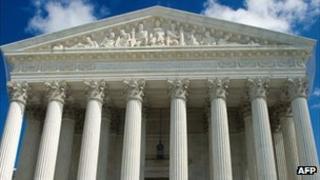 For the first time in nine years, the US Supreme Court will hear a case that confronts the issue of race in university admissions.
The court will hear an appeal brought by a white student denied a place at the University of Texas.
The Supreme Court upheld the use of race in admissions to the University of Michigan law school in a 2003 ruling.
A ruling for Ms Fisher could have an impact on so-called affirmative action programmes elsewhere, analysts say.
If the Supreme Court court makes a broad ruling in her favour, it could have far-reaching consequences for programmes at universities around the US, Vanderbilt University law professor Brian Fitzpatrick told the Associated Press.
A federal appeals court has already backed the University of Texas admissions programme, saying it was allowed under the Supreme Court's Michigan decision.
'Violation'
The University of Texas updated its admissions policy after the 2003 Supreme Court ruling to consider race without using quotas.
Students in Texas high schools are automatically admitted to the university if they are in the top 10% academically of their class. Ms Fisher's grades did not put her in that category.
Admissions to the remaining spots in the freshman class allows for the consideration of race and other factors.
Ms Fisher, along with another woman who has since dropped out of the case, filed a complaint arguing that the university's race-conscious policy violated their civil and constitutional rights.
She was never admitted to the University of Texas and will soon graduate from the Louisiana State University.
"I hope the court will decide that all future UT applicants will be allowed to compete for admission without their race or ethnicity being a factor," she said in a statement from the Project on Fair Representation, who helped pay her legal bills.
Justice Elena Kagan, previously involved in the case as US solicitor general, has already recused herself.
The case is likely to be heard later in 2012.