Alabama clears Gabe Watson of scuba honeymoon murder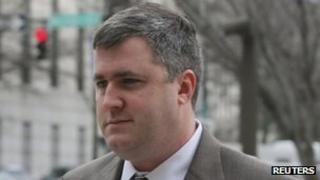 A man accused of drowning his wife on a scuba dive during their honeymoon in Australia in 2003 has been acquitted by a court in the US state of Alabama.
The trial of Gabe Watson, 34, ended after a judge said there was too little evidence to send his case to a jury.
Watson pleaded guilty to manslaughter in Australia, was jailed for 18 months, and could have faced life in prison.
Prosecutors said Watson drowned his wife for insurance money, while defence lawyers called her death an accident.
Prosecutors told a court that Watson stood to gain about $200,000 (£127,000) from the death of his wife, Tina.
They alleged that he turned off her air flow and held her under the water.
But defence lawyers said that as Tina panicked underwater she knocked off her husband's face mask, forcing him to swim to the surface without her.
The only eyewitness in the case said he thought Watson was trying to save his wife, and the judge said prosecutors had not produced enough evidence to show that Watson deliberately killed her.
Watson's father hugged his son after the court delivered its ruling, saying: "I'm just so relieved. Hopefully he can put his life back together."