Dennis Kucinich ousted in Ohio as Joe The Plumber wins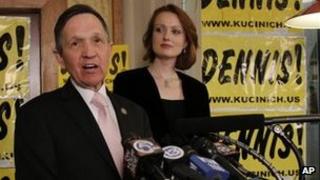 As the Republican primary in the US state of Ohio went down to the wire, a race for one of the state's congressional seats was upended.
Veteran Representative Dennis Kucinich - who has twice run for president - lost the Democratic primary to Marcy Kaptur in a redrawn House district.
She will face Samuel Wurzelbacher, aka Joe The Plumber, who shot to fame during John McCain's 2008 campaign.
Mr Wurzelbacher won with 51%, despite outspending his rival six to one.
He gained his nickname after Mr McCain, running against Barack Obama, highlighted Mr Wurzelbacher's comments about the Democrat's tax plan.
Mr Wurzelbacher then appeared at campaign events with Mr McCain and running-mate Sarah Palin.
Mr Kucinich himself has stood for the Democratic presidential nomination twice.
'Lacking in integrity'
Both Mr Kucinich and Ms Kaptur currently serve Democratic-leaning districts along the Lake Erie shoreline in Ohio.
However, every 10years, census data redistributes the 435 House of Representative seats based on population changes.
Ohio lost two of 18 districts in the change, and Mr Kucinich and Ms Kaptur's districts were largely merged.
Although the two representatives were long-time allies, the race had become heated.
In his concession speech, Mr Kucinich accused Ms Kaptur of running a campaign "lacking in integrity, filled with false truths".
"I hope this is not a representation of how she'll run the district,'' he said.