Romney rivals Santorum and Gingrich spurn calls to quit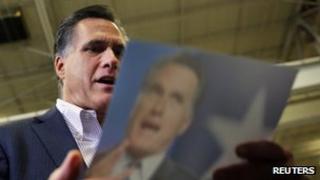 Presidential candidate Mitt Romney's campaign says his rivals cannot catch him in the race for the Republican nomination after Super Tuesday.
A Romney adviser said the other contenders were ignoring "the basic principles of math" and simply helping Barack Obama.
But Rick Santorum and Newt Gingrich said they were in for the long haul.
Mr Romney won the lion's share of the 10 contests on Super Tuesday, but it was not enough to wrap up the race.
The former Massachusetts governor triumphed in the crucial swing state of Ohio by a narrow margin, and racked up five other victories.
'Act of God'
Romney adviser Rich Beeson told reporters on Wednesday: "Super Tuesday dramatically reduced the likelihood that any of Governor Romney's opponents can obtain the Republican nomination.
"As Governor Romney's opponents attempt to ignore the basic principles of math, the only person's odds of winning they are increasing are President Obama's."
An unnamed Romney adviser, quoted by AP news agency, said it would take "some sort of act of God" for the former Massachusetts governor's rivals to beat him.
He now leads the field with 415 delegates committed to backing him at the national Republican convention in August.
A candidate needs 1,144 delegates to win the party's nomination and go on to challenge President Obama in November's election.
Mr Romney himself told CNBC on Wednesday that his campaign had "the time and the resources and a plan to get all the delegates" and would do so before the Republican convention.
However, the Santorum campaign, in Kansas and Mississippi on Wednesday, rejected the Romney team's hint to stand aside.
"He wants us out so he can stop talking about conservatism," said Santorum spokesman Hogan Gidley.
"There's a whole game to be played here. There are 28 states left. They are going to get a chance to voice their opinion in this race, too."
Mr Santorum, a former Pennsylvania senator, says his wins in Tennessee, Oklahoma and North Dakota on Tuesday make him the true conservative alternative to Mr Romney.
A pro-Santorum independent committee supporting, the Red White and Blue Fund, called for Mr Gingrich to step down.
"It would be a true head-to-head race and conservatives would be able to make a choice between a consistent conservative in Rick Santorum or Mitt Romney," Stuart Roy, an adviser to the group, told US political paper The Hill.
Mr Gingrich won Georgia on Tuesday but did not achieve the sweep of Southern states that he had hoped for.
The former House of Representatives Speaker said he would not quit as he did not think Mr Santorum could win.
"If I thought he was a slam dunk to beat Romney and to beat Obama, I would really consider getting out," Mr Gingrich said in a radio appearance on Wednesday. "I don't."
However, a Gingrich spokesman said he would need to win delegates in Alabama and Mississippi next week in order to stay credible in the race.
Texas congressman Ron Paul, who focused on Western caucus states but came away without a win on Super Tuesday, has not shown any sign of dropping out of the presidential race either.
However, a political action committee supporting him has said it might begin to focus on House and Senate races in 2012,Politico reports.
The Romney campaign announced it has raised $11.5m (£7m) in February, the second-best month for his campaign.
His February fundraising is only somewhat above Mr Santorum's monthly haul of $9m.
Both candidates are supported by independent committees, known as "super Pacs", that have raised many millions more, though they are not legally allowed to co-ordinate with the campaigns.
But analysts says the next crop of votes in Kansas, Alabama, Mississippi and Hawaii may not do Mr Romney any favours.