Abortion storyline means Doonesbury swap in some papers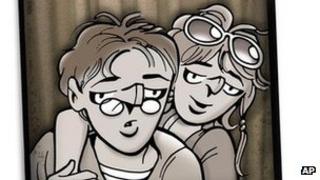 Some US papers may replace strips of the well-known political cartoon Doonesbury next week, as it takes on Texas' ultrasound abortion bill.
Cartoonist Garry Trudeau has selected alternates for the six-day storyline.
Texas's proposed law requires women to receive a sonogram that shows the foetus before having an abortion.
Universal Uclick managing editor Sue Roush told the BBC that several papers were uncomfortable with the series and wanted to switch to the alternates.
Ms Roush did not provide names of specific papers, citing that editorial decisions on their part were not yet final.
As of Friday, at least one company confirmed it would not be running the series.
Tom McNiff, managing editor of The Gainesville Sun and Ocala Star-Banner, both in Florida, told the Associated Press that readers were "accustomed to pointed political and social commentary" but that "the language the author used to make his point in two of the strips was quite graphic for a general readership".
Two other publications - the Pocono Record in Stroudsburg, Pennsylvania and the Kansas City Star - said they would move the storyline to their opinion page and run the replacements in the comics section.
'Occupational risk'
The strip is no stranger to controversy, according to Universal president Lee Salem.
"Once every five or six months, there's usually something in Doonesbury that causes a stir," Mr Salem told the AP.
"Every two or three years, there's something that causes a bigger stir. This is probably one of those times. Historically, that's par for the course with Doonesbury because Garry explores topics on comics pages that are not normally there."
In an email to the AP, Mr Trudeau said it was not his goal "to antagonize editors and get booted from papers".
"It's just an occupational risk," he said.
Journey to a Texas abortion
The storyline follows a woman in Texas seeking an abortion who is confronted and shamed by several people.
In the week-long series, the woman's doctor reads a script from Texas Governor Rick Perry welcoming her to "a compulsory transvaginal exam".
While the Texas bill does not specify the type of sonogram required, a transvaginal ultrasound is needed in the first trimester to meet the bill's requirements.
That procedure uses a wand inserted into the vagina to yield an image of the foetus during the first months of pregnancy.
The Texas woman also meets a middle-aged legislator who calls her a "slut".
Texas' bill is similar to recently passed laws in other states requiring pre-abortion ultrasound. In Virginia, legislators removed a provision specifically calling for the transvaginal exam, following protests.
Ms Roush said the publications considering the switch were not all in Texas.
Doonesbury has been published since 1970, with one hiatus, and is currently syndicated to more than 1,400 publications.