Deadly gun spree at Texas court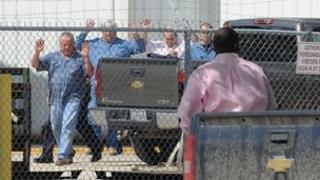 A man has opened fire outside a court in the US state of Texas, killing one person and injuring three, say police.
Bartholomew Granger, 41, tried to escape in a vehicle after the attack in the city of Beaumont, about 80 miles (128km) east of Houston.
One person, reported to be his daughter, was hit by the suspect's lorry as he tried to get away. He took hostages before turning himself in.
He was at court as part of an ongoing family dispute, police said.
Mr Granger was later arrested on a murder charge and held without bail.
Family battles
The shooting began when Mr Granger grabbed a gun from his vehicle and began firing, authorities said.
The woman who was shot and killed was named as 79-year-old Minnie Ray Seabolt of Deweyville, Texas. She was thought to have been an innocent bystander.
His daughter remained in hospital in a critical condition, authorities said. The daughter's mother and a third person treated for their injuries and allowed to leave hospital.
The Associated Press news agency reported that Mr Granger had been involved in a bitter court battle that was set to involve his daughter, 20, testifying against him.
The agency said Mr Granger had been involved in legal wrangling with the cities of Beaumont and Houston in recent years.
At a news conference, deputy police chief Zena Stephens confirmed the suspect was injured by police returning fire outside the courthouse.
One person ran into the courthouse for safety after being shot, she said.
After abandoning the lorry in a nearby street, the suspect ran into a nearby building and took hostages.
Once inside, employees of the construction firm based there eventually disarmed him and allowed police and Swat teams inside, reports said.