Nicollette Sheridan Housewives case ends in mistrial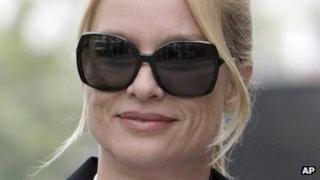 A mistrial has been declared in the case of former Desperate Housewives actress Nicollette Sheridan, who sued the show for killing off her character.
The jury could not agree on her claims against ABC, which airs the show.
She says its creator, Marc Cherry, axed her character because she complained that he hit her in the head during an on-set dispute in September 2008.
Mr Cherry says Sheridan exaggerated the on-set incident and that he decided to kill off "Edie Britt" months earlier.
She was seeking some $6m (£3.7m) from her former employers.
Deadlock
Sheridan walked out of the Los Angeles court after Monday's decision without speaking to journalists.
Her lawyer said he would retry the case. Mr Cherry was not in court.
The jury first reported problems coming to a vote on Thursday.
It was deadlocked 8-4 in favour of Sheridan, however, a minimum 9-3 split in one party's favour was required.
The jurors continued to deliberate until Monday, when Judge Elizabeth Allen White excused the panel.
A battery count against Mr Cherry was dismissed in the case last week.