Trayvon Martin: Sanford rally over Florida shooting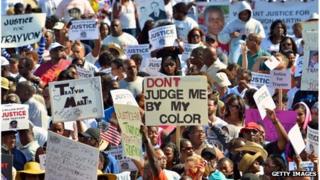 Large crowds have gathered in Florida for a rally to mark a month since unarmed black teenager Trayvon Martin was shot and killed.
Civil rights leaders, the teenager's parents and crowds of well-wishers met in Sanford to urge city officials to arrest shooter George Zimmerman.
The rally was held as details emerged of Mr Zimmerman's statements to police that he acted in self-defence.
One friend of Mr Zimmerman said he believed he was "about to die".
According to areport in the Orlando Sentinel, Trayvon Martin punched George Zimmerman, knocked him to the ground and began bashing his head.
Orlando police did not dispute the version of events reported by the Sentinel, and Sanford's city manager said he would pursue whoever was responsible for a presumed leak.
The friend of Mr Zimmerman, Joe Oliver, told CNN on Monday evening that Mr Zimmerman was on his way back to his car when he clashed with Trayvon Martin.
"I do believe George Zimmerman was in fear for his life," Mr Oliver said, adding that he had heard Mr Zimmerman's own account of the night.
Mr Zimmerman has not been charged with any crime after maintaining that he opened fire in self-defence.
Teenager's reputation attacked?
While thousands of people massed outside, Mr Martin's parents, Tracy Martin and Sybrina Fulton, addressed city commissioners in Sanford on Monday, urging them to pursue justice. Some 500 people were reported to have crammed into the room to hear the exchanges.
American footballers Ray Lewis and Santonio Holmes were expected among the crowds.
"We're not asking for an eye for an eye. We're asking for justice, justice, justice," Mr Martin said.
Civil rights leaders Al Sharpton and Jesse Jackson also spoke, and a petition was presented which has gathered some 1.8m signatures calling for Mr Zimmerman to be prosecuted.
"The whole world is watching Sanford," Mr Jackson said. "The whole world is watching Florida today."
Earlier, it emerged that Mr Martin was in Sanford after being suspended from his Miami high school because traces of marijuana had been found in his bag.
Al Sharpton told media that the news was an attempt to destroy the dead teenager's reputation.
In another development, city officials named an African-American, Capt Darren Scott, as acting chief of Sanford police department.
The appointment came days after the former police chief, Bill Lee, who is white, temporarily stepped down amid scathing criticism over his department's handling of the case.
'Assassination'
The department has cited Florida's "stand your ground" laws, which protect individuals from prosecution when deadly force is used as self-defence, as the reason Mr Zimmerman was not arrested.
Mr Zimmerman's lawyer, Craig Sonner, told ABC News on Monday that his client was assaulted during his fatal confrontation with Mr Martin.
"George Zimmerman suffered a broken nose, and had an injury to the back of his head," Mr Sonner said. "He was attacked by Trayvon Martin on that evening. This was a case of self-defence."
Mr Sonner also said that Mr Zimmerman had received death threats and that a group known as the New Black Panther Party had been offering a $10,000 (£6,300) bounty for him.
Friend Joe Oliver said the vilified 28-year-old - the son of a white father and Hispanic mother - was no racist.
"This is a guy who thought he was doing the right thing at the time and it's turned out horribly wrong," said Mr Oliver. "George had no intention of taking anyone's life. He cried for days after."
Monday's demonstrations were the latest in a string of rallies that have been held amid simmering public anger over the racially charged case, which has grabbed national headlines.
Over the weekend, Philadelphia Mayor Michael Nutter, an African-American, told MSNBC he considered the shooting to be "nothing short of an assassination".
A grand jury is considering whether to charge Mr Zimmerman and will hear evidence in the case on 10 April.
The Department of Justice and the FBI are also conducting civil rights investigations into the police handling of the case.
Mr Martin was carrying a bag of sweets and a can of iced tea when he was approached by Mr Zimmerman.
The neighbourhood watchman had told a police dispatcher he thought Mr Martin, who was wearing a hooded sweatshirt, looked suspicious.