Paul Ryan backs Mitt Romney ahead of Wisconsin primary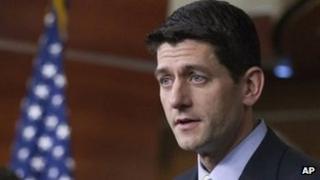 A US Republican at the forefront of efforts to cut government spending has become the latest big endorsement for presidential candidate Mitt Romney.
The congressional budget committee chairman has been floated as a possible vice-presidential pick for Mr Romney.
Florida Senator Marco Rubio and former President George H W Bush also backed the former Massachusetts governor week.
Mr Ryan's endorsement comes four days ahead of a Republican presidential primary in his home state of Wisconsin.
"I think he deserves to be the nominee. I think he earned it," Representative Ryantold the Milwaukee Journal Sentinel. "He has emerged as the best candidate."
Mr Ryan echoed other Republican calls to support Mr Romney and avoid a drawn-out fight for the nomination. The winner will challenge Democratic President Barack Obama in November's election.
"I believe it's getting to the point where it's going to become counter-productive if the primary drags on," Mr Ryan said. "It's going to get much tougher to defeat Barack Obama in the fall."
But Mr Romney's closest rival, former Pennsylvania senator Rick Santorum, has vowed to continue fighting for the nomination until the party convention in August. Nor has Newt Gingrich, who is trailing in the race, shown any willingness to step aside.
Mr Ryan is expected to campaign in Wisconsin with Mr Romney. Polls suggest the former Massachusetts governor is leading by several points in the state.
The House of Representatives passed Mr Ryan's budget proposal on Thursday. It calls for tax cuts as well as cuts to social programmes.
It is unlikely to pass the Senate, which is controlled by Democrats.
Mr Romney praised the Wisconsin congressman's efforts in a statement, thanking him for "all the hard work he has done to help turn around our country and restore it to greatness".