Italy football legend Giorgio Chinaglia dies aged 65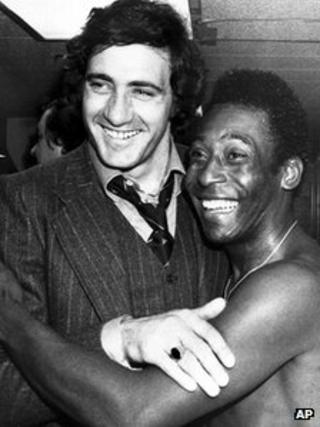 Former Italy football international Giorgio Chinaglia has died aged 65 at his home in Florida, friends and former colleagues have confirmed.
Chinaglia, who was born in Italy but grew up in Wales, began his career with Swansea and later played for Lazio and New York Cosmos.
In 2006 Italy issued an arrest warrant for him during an extortion probe at Lazio, but he was never detained.
He had suffered complications after treatment for a heart problem.
Chinaglia began his football career with Swansea Town in 1964 after his family moved to Wales to find work.
He later moved back to Italy, eventually joining Lazio in 1969 where he spent most of his career.
In 1972 he won a place in the Italy team, going on to play 14 times for his country and taking part in the 1974 World Cup.
In 1976 Chinaglia moved to the US, joining Pele and Franz Beckenbauer at the star-studded New York Cosmos in the North American Soccer League, where he scored a record 262 goals.
He later became president of Lazio between 1983-85 before retiring to the US.
Lazio released a statement on their website on Sunday offering their condolences to Chinaglia's family.
Cosmos also published an online tribute, describing him as the club's "greatest player ever".