Mexico cartel boss Arellano Felix jailed for 25 years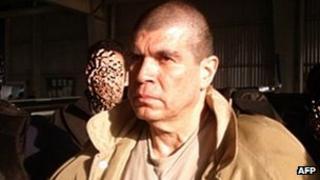 Former Mexican drug cartel boss Benjamin Arellano Felix has been jailed for 25 years by a US judge.
Felix, 58, considered one of the world's most powerful drug lords in the 1990s, had pleaded guilty to conspiracy to launder money and racketeering.
As part of the sentencing, he must also forfeit $100m (£62m).
He pleaded guilty in December. Prosecutors said his Tijuana-based cartel smuggled hundreds of tons of marijuana and cocaine into California.
The Tijuana-based cartel, known as the Arellano Felix Organisation, smuggled along the Mexico-California border.
According to court documents his cartel tortured and killed rivals in the US and Mexico.
Its operatives were known for dissolving the bodies of cartel enemies in vats of deadly corrosives.
Charges in two countries
The 25-year-sentence matched the requested term from prosecutors, although that sentence was lighter than expected.
Felix fired his lawyer two weeks before sentencing, giving no explanation to the US judge. The move fuelled speculation that he may be having second thoughts about his plea.
Benjamin Arellano Felix is accused of leading the cartel from 1989 until his arrest in 2002, overseeing its drug trafficking operations and the kidnapping and murder of rival traffickers, informants and members of the security forces.
The group began to lose its influence when Arellano Felix was arrested in Mexico in 2002.
He was sentenced there in 2007 to 22 years in prison for drug trafficking and organised crime charges, and was extradited to the US four years later.