Kansas jackpot winner 'looking forward to retirement'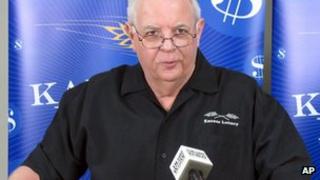 The holder of one of three winning tickets in a record $656m (£413m) prize is looking forward to retirement, a Kansas lottery official says.
The winner, who has asked to remain anonymous, came to the lottery office on Friday to claim the prize.
Officials earlier said that the winning ticket had been bought in the northeastern part of the state.
No one has come forward to claim the winning ticket in Maryland or Illinois, where the other two tickets were sold.
A McDonalds employee who previously said she had bought the Maryland winning ticket now says she can not find it.
Kansas lottery officials said the winner did not realise they had the winning ticket until Monday, when they checked the numbers online.
"They checked it over 10 times and still had a hard time believing it," Kansas Lottery Director Dennis Wilson said to reporters.
Mr Wilson says they bought the ticket at a general store in Ottawa, Kansas, about 40 miles (65km) southeast of Topeka.
The person chose to take the winnings in a lump sum of almost $158 million.