Virginia Beach Navy crash victims compensated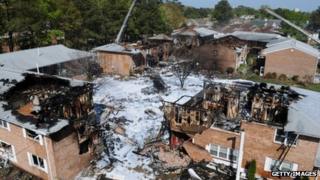 The US Navy is offering initial compensation to residents whose homes were destroyed when a Navy jet ploughed into a Virginia apartment complex.
Officials estimate that 63 people living in 46 units were affected by the crash, which did not kill anyone.
The first payments started at $2,300 (£1,448) for individuals, with more going to those with families.
The US Navy said the compensation was a short-term fix to help residents pay for food, clothing and housing.
The Virginia Beach residents have up to two years to make those claims.
"We're here for the long haul," said US Navy Captain Bob Geis.
Some residents might receive more than the initial claim, but Capt Geis said that would be decided on a case-by-case basis.
Officials say the F/A-18D Hornet crashed shortly after it took off from the nearby Oceana naval base due to a catastrophic mechanical malfunction.
The Navy's investigation into the exact cause of the incident is ongoing.
One resident, Joanie Coleman, told the Associated Press news agency: "I lived through the war in England, and if I can live through that I can live through anything."
The crash injured several people, including two pilots who ejected from the plane. Some apartments were completely destroyed or seriously damaged.
Local fire officials helped those who lived in nearby homes retrieve necessities like medications and documents on Monday.