Bomb threat diverts Korean plane to Canadian army base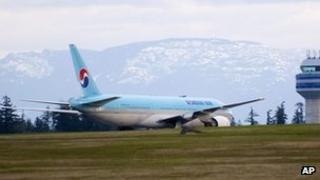 A Korean Airlines plane has diverted to a Canadian military base on Vancouver Island after it received a tip-off about a bomb threat.
The Boeing 777 was en route from Vancouver to Seoul when the airline's Los Angeles call centre received a call about a bomb on board.
Two United States fighter jets were apparently scrambled in response, the Associated Press reported.
A Korean Air spokesman said it was too early to tell if the call was a hoax.
James Koh said all 149 passengers were safely off the plane at the military base on the east coast of Vancouver Island.
Canadian security services are now inspecting the plane to investigate the threat.
Mr Koh added that Korean Air had received a similar call on Monday afternoon that caused another flight from Vancouver to be delayed for two hours before the all clear was given.