John Edwards jury selection begins ahead of trial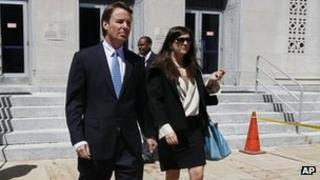 Jury selection has begun in the trial of a former US presidential candidate suspected of using secret campaign funds to hide his pregnant mistress.
John Edwards denies knowledge of money allegedly used for private jets, hotels and medical care for Rielle Hunter.
Prosecutors say Mr Edwards raised and used funds to keep up a public image as a "family man", keep his affair secret and keep his presidential hopes alive.
Mr Edwards could face up to 30 years in prison and $1.5m (£940,000) in fines.
It is alleged that Mr Edwards, 58, illegally raised more than $900,000 from two wealthy campaign donors during his unsuccessful bid for the White House in 2008.
He allegedly used the funds to cover up an extramarital affair with a campaign worker, while his wife Elizabeth was suffering from cancer. Mr Edwards initially denied the affair.
The charges also suggest that he asked a colleague on his campaign to claim paternity of Ms Hunter's daughter, who was born in February 2008.
'Wrong or crime'?
Mr Edwards faces six charges relating to violations of US campaign finance rules. They include conspiracy, accepting illegal campaign donations and making false statements.
His defence lawyers argue that even if Mr Edwards was aware of the money, it was a gift from one individual to another and should not be subject to campaign finance laws.
"The distinction between a wrong and a crime is at the heart of this case," says one court filing submitted by the defence.
Each charge carries a penalty of five years in jail and a $250,000 fine. Mr Edwards was charged in June 2011 and the trial is expected to last about six weeks. Testimony is set to begin on 23 April.
The former politician was present at the hearing in Greensboro, North Carolina, and smiled when the court introduced him to more than 100 potential jury members.
"This is not a case about whether Mr Edwards was a good husband or a good politician," Judge Catherine Eagles said.
He was formerly a lawyer and senator for the state of North Carolina, and ran for president twice, in 2004 and 2008.
Mr Edwards and his wife separated in 2010 after he acknowledged he was the father of Ms Hunter's child. Elizabeth Edwards died from cancer later that year.